I actually work with a lady who is hello kitty obsessed. (not that that's a bad thing) So... I decided to do a hello kitty inspired look.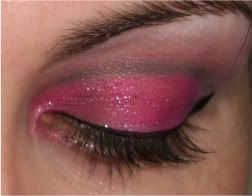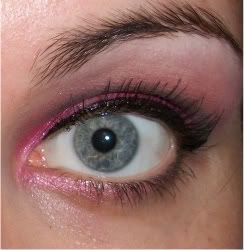 Here goes:
e.l.f. primer
AL "black angel" cut crease, then creating a v to outer 1/4 of upper and lower lash line.
AL "bad reputation" above "black angel" (tightly) and blended
Shiro "mew" above "bad reputation" (tightly) and blended, I also put "mew" under the lower lash line.
"cloud coverage" to highlight under brow
fyrinnae "pixie epoxy" under cut crease
AL "psychocandy" to inner 2/3 of lid
GDE "phyrra" to the remainder of lid
e.l.f. liquid liner "black"
100% pure mascara "black tea"
AL "corset" to cheeks
fyrinnae "lickable" to lips