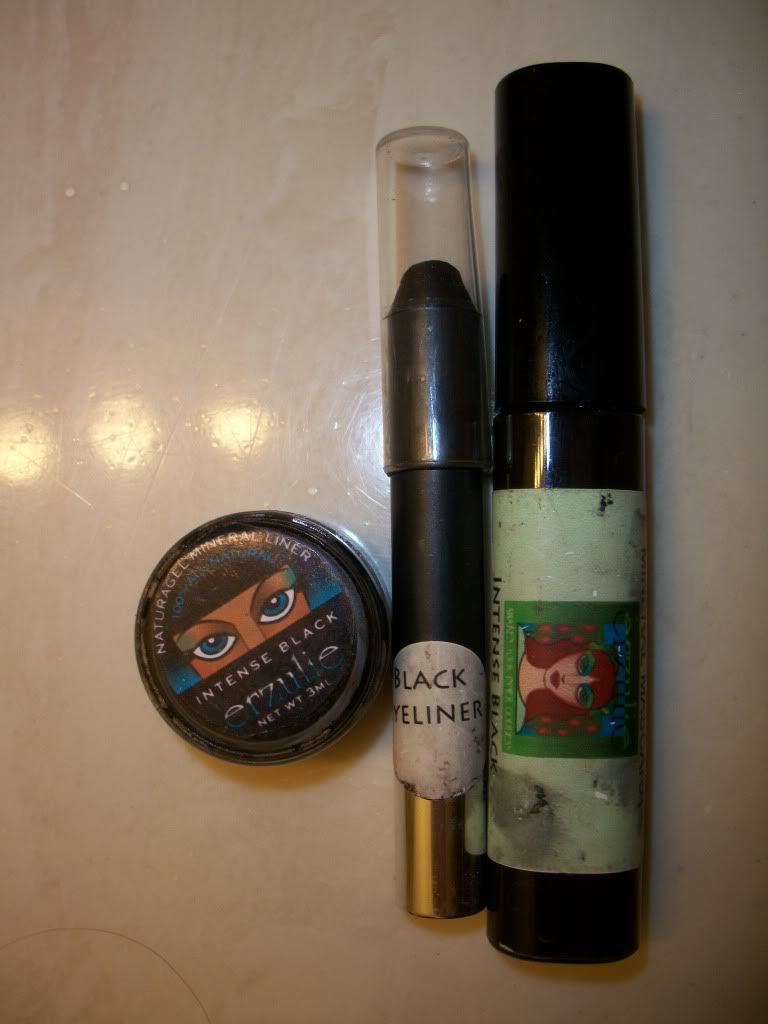 (As you can see from the picture... I've used this product a while before offering my thoughts)
Erzulie cosmetics are an indie, organic, mineral makeup company. The owner is a nationally recognized nutritional holistic consultant and, from just going to her site, you get a warm fuzzy from the first "namaste!!!" to the last word. Her products range from skin care to makeup and I was quite excited to try a couple things. She is one of the few indie companies to offer hand made chubby eyeliners, and her naturagel eyeliner also intrigued me. So, I ordered the intense black naturagel eyeliner, the chubby eyeliner pencil in black, and the mineral mascara in (you guessed it) intense black. The products arrived quite quickly (I bought them 03.20.10 and received them 03.24.10!) and I received a full sized, free gift eye depuffer stick.
The chubby eyeliner glides on smoothly with great color payoff. It smudges easily to create a smoky eye look, as well. I will caution that application is a glossy deep black, but with wear it becomes a more muted black. So, it isn't the best in staying power. In addition, the product can be tricky if you want a fine line. Also, because it's natural, and I have slightly hooded lids, it tends to migrate a bit. The way I got around that is blend a bit around the crease on the outer corners. I also used it as a black lipstick pencil and it worked VERY well.
The naturagel eyeliner has a creamy, almost whipped consistency and applied quite easily with an angled liner brush and bent eyeliner brush. It creates a great fine line and wears pretty well. I have also used it thus far in conjunction with the chubby eyeliner to create an intense, smoky cat eye.
Finally, the mineral mascara has a natural, lengthening affect. Depending on how you use the brush you can get a separated look or the spider eyes look. And I like both, so bravo! I will caution that it is not even a little bit water proof, so carrying around a q-tip to remove any stray "mineral" is a good idea. All in all, this order wasn't bad. While the eyeliners don't have extreme staying power, and the chubby liner can tend to smudge, the cosmetics are imminently affordable, natural, comfortable and the service was wonderful.
I will purchase here again.